Since its creation in 1996, A.C.C.&S., located in Strasbourg (France), has established itself as a manufacturer and distributor of precision flexible shaft couplings.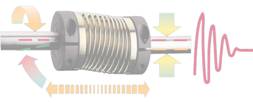 A.C.C.&S. Flexible shaft couplings, "Nickel Bellows Couplings", are ideally suited for extremely accurate measuring or servo-control devices. They easily bend due to misalignment between shafts, generating reduce bearings loads, while remaining rigid under torsional loads.
The Nickel Bellows Couplings are vibration dampening, with zero backlash. They increase coupled parts lifetime. At the same time they act as a mechanical fuse for expensive positioning systems in case of overloading.
The Nickel Bellows Coupling is an assembly of a thin walled metallic bellows and 2 hubs. The assembling is made at customer's request, allowing a large variety of bore size combinations within a very short delivery time.
Typical applications:

encoders,
servomotors,
resolvers,
motion control devices,
robotics and automatic systems,
CNC machine tools,
measurement and control,
radar,
transportation,
aerospace…