Flexible shaft couplings

Torsional stiffness is a key value in the accuracy of a shaft coupler: the stiffer the coupling, the more accurate the motion transmission from the motor to the driven component. In the area of servo couplings or encoder couplings, bellows couplings are some of the stiffest available.
Precision motion control applications often require shaft couplings with low wind-up to ensure accurate positioning, and low side thrust to reduce load on bearings. Most of the coupling types have either low wind-up or low side thrust, but not both.
A.C.C.&S. flexible shaft Nickel Bellows Couplings (or couplers) exhibit both:

torsional rigidity for precise position transmission
axial, lateral and angular flexibility for misalignment compensation between shafts
Comparison of a Nickel Bellows Coupling with major coupling types
Same sizes: 25mm OD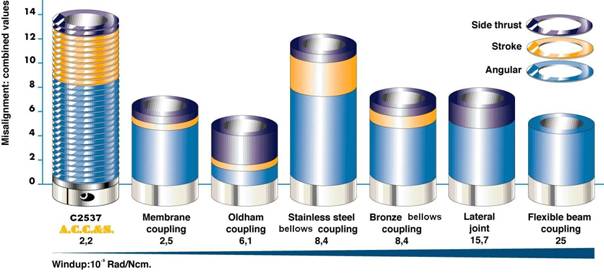 Reduced bearing loads = increased life time.
Made using Servometer® brand precision electrodeposited nickel bellows, these couplings are essential for use on critical applications such as resolvers, encoders, servomotors, motion control devices, and computers were accuracy, life time and reliability are the decisive selection criteria.
The characteristics of the Nickel Bellows Couplings are:
zero backlash,
maintenance free,
short space envelope,
dampening vibration,
mechanical fuse function,
torque range from 4,9 Ncm to 328 Ncm
very low elastic windup from less than 4 arc*sec/Ncm,
zero cyclic speed variation during 360° rotation,
low side thrust on bearings up to 4,2 N/mm
standard shaft sizes ranging from 2 to 12,7 mm.

The Nickel Bellows Coupling offers one of the best size/performance ratios on the market. Two different mounting types are available: either with 2 set-screws at 120° (type A) or with a clamp hub (type C). All couplings are delivered with a corresponding Allen Key and individual packaging.
Set-screw mounting, for reliability - Type A hubs

These hubs assure tight mounting on shafts. The two stainless steel ISO4029-set-screws at 120° provide perfect balancing of clamping forces. However, vibrations may require the use of self-blocking screws or a special thread locking product.
Made of stainless steel for miniature coupling sizes 7 to 12 (models A0714, A1017 and A1223) and anodized aluminium for the sizes 17 and 25 (models A1727, A1731 and A2533).
Clamp mounting, for precision - Type C hubs

These hubs are particularly well suited for applications requiring precise adjustment or repositioning without marring the shaft. They are especially recommended for their resistance to reversal torque and vibration.
Made of anodized aluminium with an ISO4762-black-oxide-steel-screw.


Stick-tech assembling, for flexibility and high performance
The use of high-tech bonding technology is particularly recommended for pieces subject to extreme conditions, such as:

temperature (-50°C to +120°C)
moisture,
mechanical stress
over 6MΩ electrical resistance upon request.
It allows A.C.C.&S. to customize coupling bore size combinations within a very short delay.
Note: the glue used offers sufficient strength for most industrial applications. However, for special applications such as food-processing, nuclear industry, we recommend that you contact our engineering department for verification.
Electrodeposited Nickel Bellows - the alternative
The Servometer® Nickel Bellows made by electrodeposition offers decisive advantage in comparison with hydroformed or welded stainless steel or bronze bellows:

the thickness is uniform and controlled - down to 8µm - which enables very high sensitivity,
manufacturing tolerances assure perfect bellows concentricity - to within 12,7 µm,
they are the most flexible bellows on the market, providing exceptional performance,
they are designed for long service life - from 100 000 cycles to infinity,
they are weld-free and non-porous.

These exceptional features were designed to provide a bellows that is ideal for coupling applications. Each and every bellows is tested to guarantee its performance. Nickel bellows do not oxidize in the presence of air or alkaline liquids. First consult our engineering department if use in salty or acidic environments is planned.